Complete range of Real Estate Signs products for services.
Just contact our
experienced and qualified experts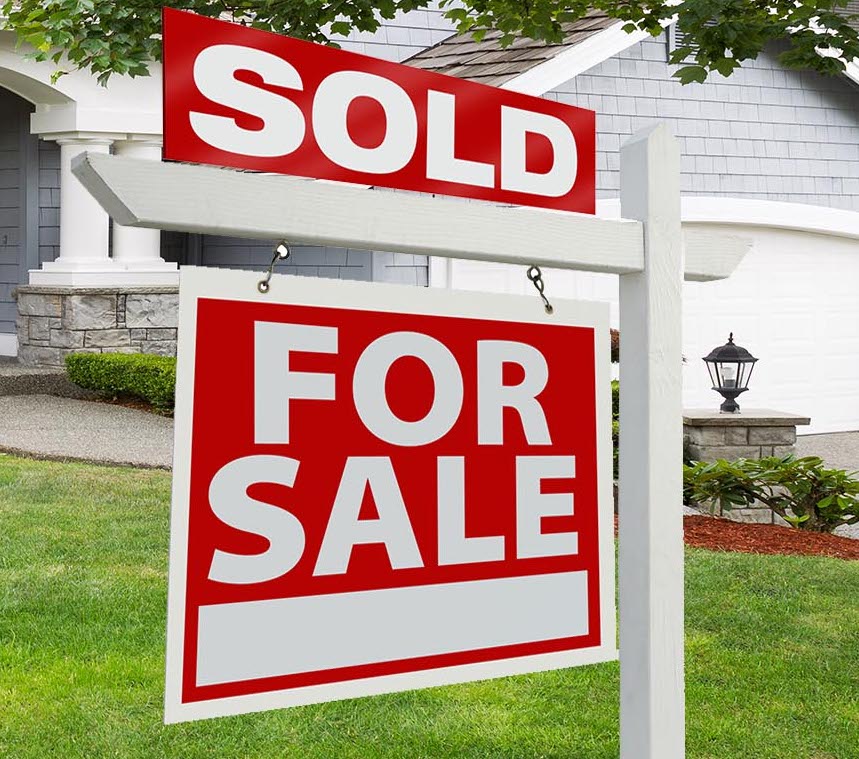 Make a perfect first impression with your "For Sale" sign! Available in aluminum, PVC, and coroplast, Signs Done Fast can both design your sign and have it printed just in time for your next listing. If you don't have a design we can create one for you. And if you need an idea we have several templates below that can be customized for you and your business! We also have templates on hand for a variety of Real Estate Companies such as Keller Williams, EXp Realty, 10X Realty, and Twenty Four Seven. And can be done as a custom size or one of our standards, either as one or two sided: 12×18″, 18×24″, 24"x24", 24×30″, 24×32″, 24×36″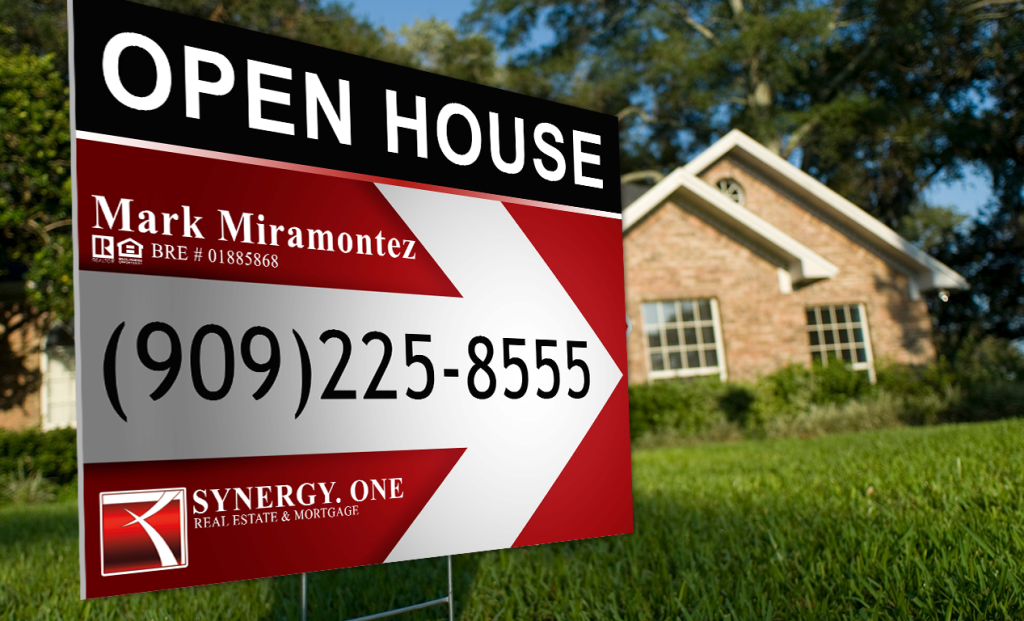 Open house events are the oldest and most accepted methods used for sale of property by many real estate agents. Most prospects prefer open houses as it allows them to visit the homes physically and check out the property in its entirety. We understand how important open house signs are in making the event a success, which is why we make sure that each sign delivers as is intended. Our attractive custom designed open house signs are a guarantee of driving massive traffic to the house on your listing. Over the years, we have been able to come up with most effective signage ideas that really work wonders in catching the attention of prospective buyers.


A sign rider is a smaller sign that can be placed both above and below your real estate sign. The addition of a rider can give potential customers further details about a property with riders like "POOL" or "2 Bedrooms" or let them know you are available for other business with riders like "SOLD" and "Sale Pending (But We Have Others)." Our sign rider are 6″x24" in size beware of others sold are a lot smaller in size.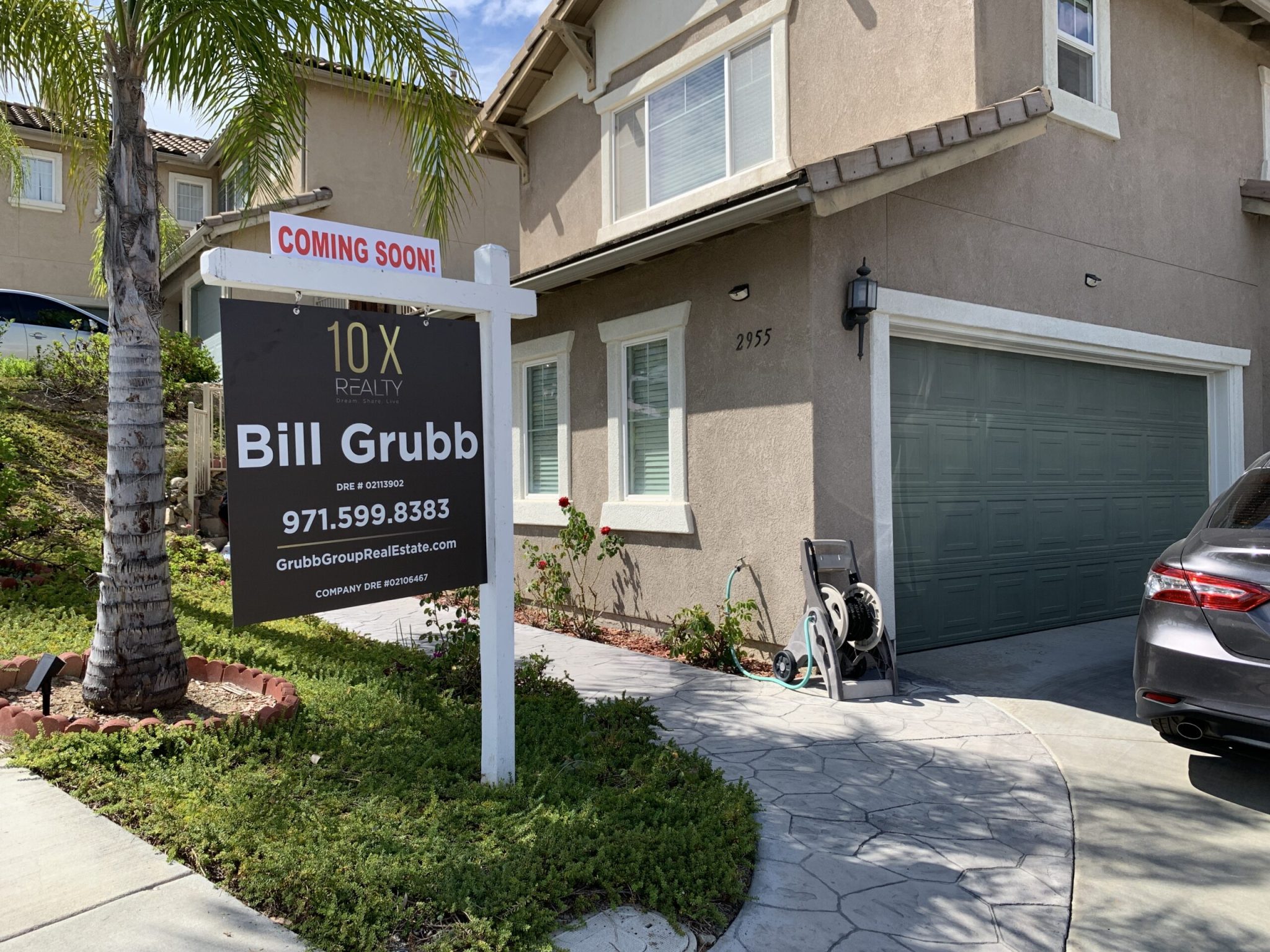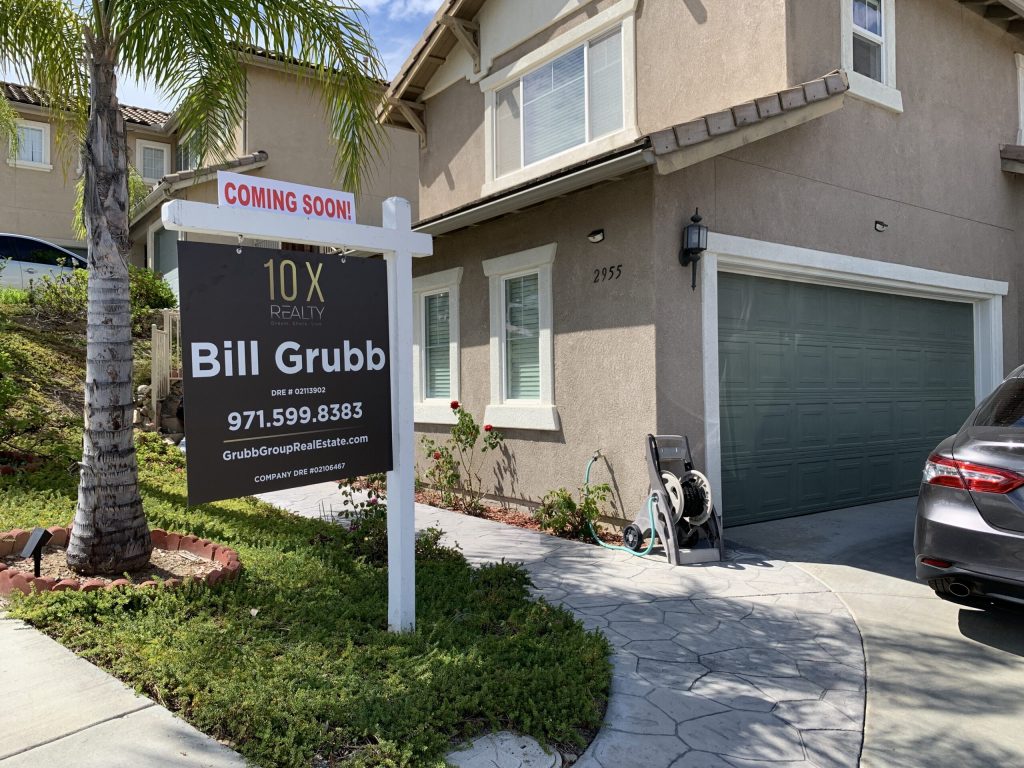 We are a full service Real Estate sign installation and removal service company serving most of San Diego county. Our service area covers a large 45 miles from out office location. all of our posts are constructed of 4"x4" pressure treated timbers with crown cuts on all points. In addition, all of our signposts are cleaned and are freshly painted after each installation. We also store all agents' signs, riders, and brochure boxes free of charge. If you should choose to have us store your signs and accessories, we would ask that you provide us with enough sings to distribute to our installation team so that they have everything they need to complete your installs. If you should choose to store your own signs, we can attach them for you if they are left at the property at the time that the post is installed. If you would prefer to attach your signs yourself we can leave zip ties for installation.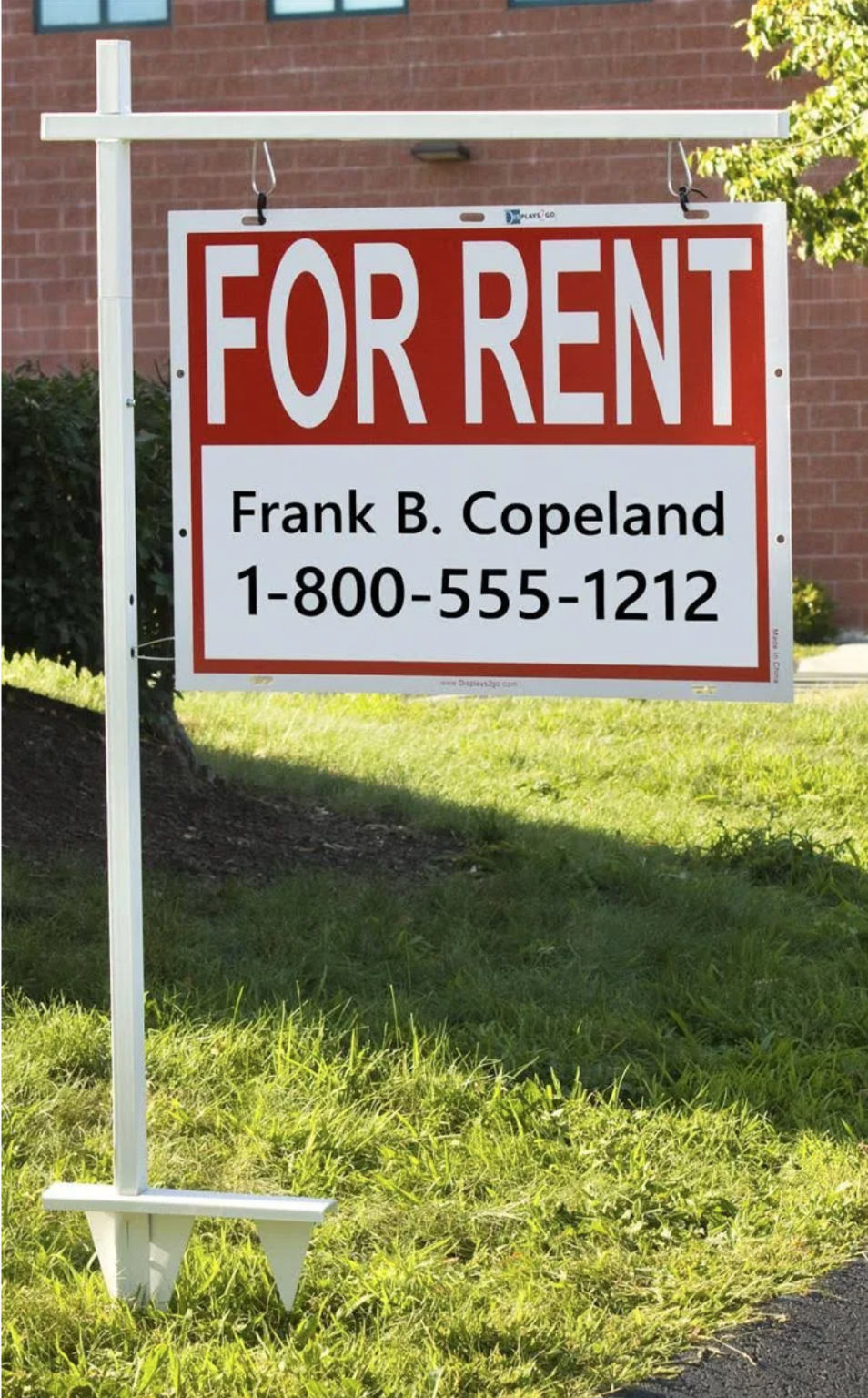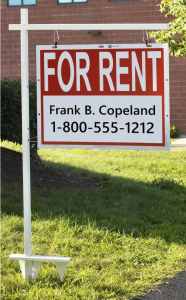 Economic Real Estate Post 64″
All hardware is included. Compact slips together, installs in seconds. Finished in overbaked high gloss white. Straight style top bracket accommodates 24 wide x 18 tall sign . • 2 Piece slip fit makes this unit easy to transport. • High gloss White finish only. • Unit is constructed of 1 square steel tubing. • Overall height is 64″ • Complete with hardware to hang sign. • Holes underneath cross arm are pre-drilled at 12 inches and 16 inches on center.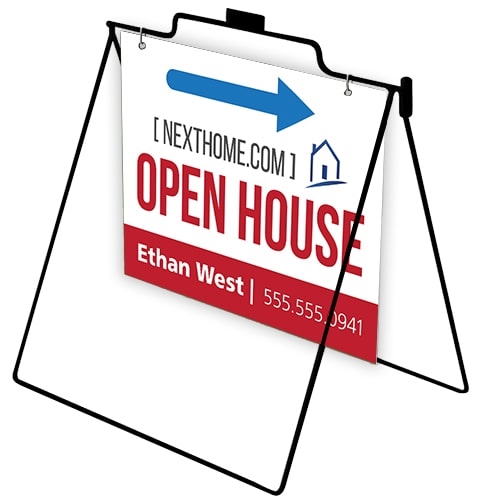 Foldable Wire Stand Frame - Real Estate
Real Estate Foldable Wire Stand Frame 18″ x 24″ sign also Available in white or black stand. Foldable Wire Stand Made from 3/8 inch round rod steel. Holds up to a 6h x 24w rider on top and has a welded holder for a pennant pole. Sign size 18″x24″ Full Color.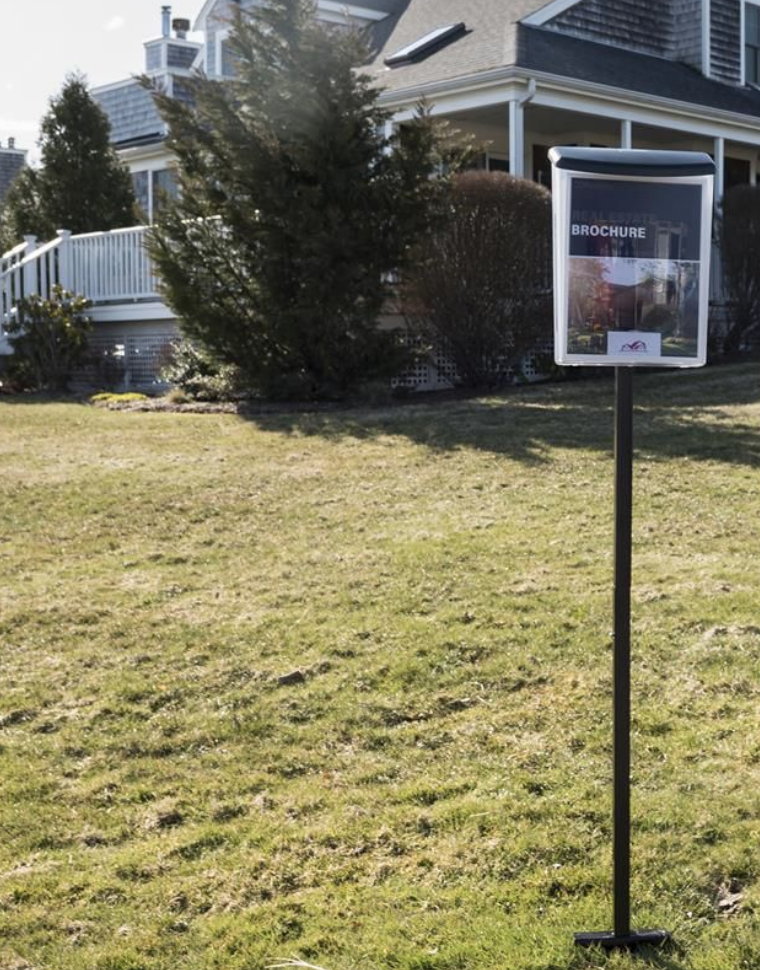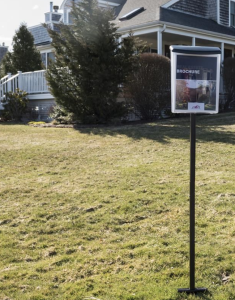 Real Estate Brochure Holders
• Holds up to (100) 8.5″ x 11″ flyers • Footbar at bottom makes installation easy • No assembly required • Dimensions: 47.5″h x 9.5″w • Brochure Box made of durable styrene with a clear front panel • Stake made of 5/16″ round rod steel with a powder-coat finish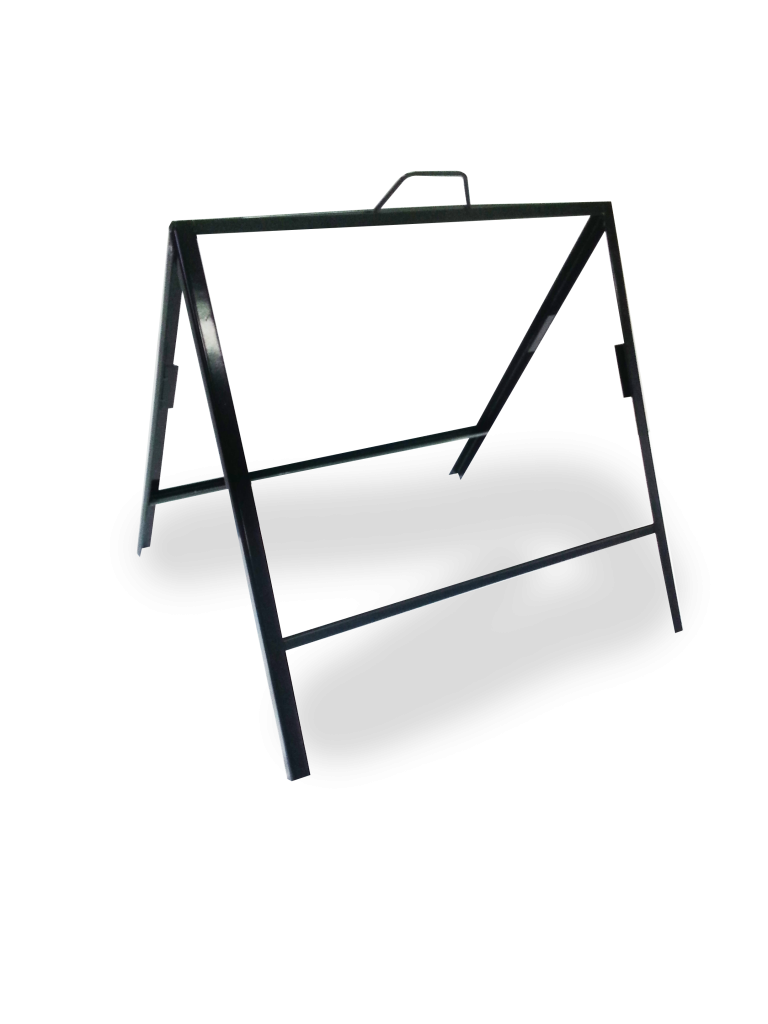 Real Estate Frame Angled 18″x24″
Real Estate Frame Angled 18 x 24 Angle Iron A Frame. Sign Panels load from the inside creating a picture frame look.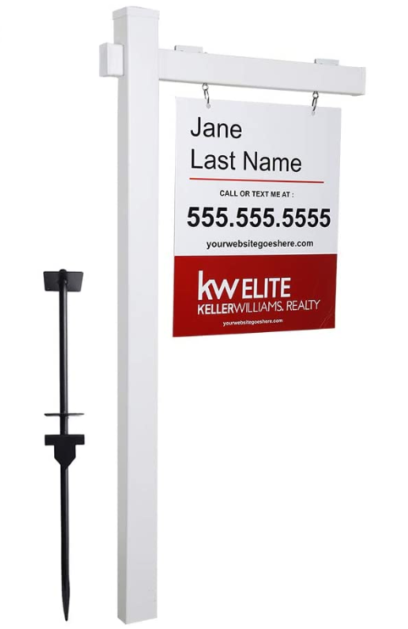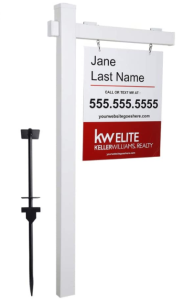 73″ Tall with colonial style cap 4″ x 4″ Vertical Post 48″ Arm Additional clamp for rider on top.UV Protected… 5+ years. No yellowing… No Cracking!Our vinyl real estate sign post has been a huge hit. It is lightweight, clean and easy to assemble.The decorative standard cap is included along with the hanging hardware. Real Estate Posts comes in an easy to assemble kit. It includes all the components needed to assemble the post pictured, plus all the hardware necessary to display your sign. Our patent pending internal key makes assembly and disassembly fast and easy. It also gives the sign post a clean smooth look because there are no external screws needed to hold the sign arm in place. Installation is especially easy due to our drive-in stake. Just drive the stake in the ground, slide the post over the stake, and then hang your sign.
Need expert advice? Give us a call 619-265-7446